Session Types:
The following four session types will be available for abstract submission
Oral presentations will be grouped into symposia of 4 presentations, allowing each presenter 15 minutes, followed by questions.

Poster presentations are the preferred format for presenting preliminary research or describing experimental projects/programs or works-in-progress. Poster sessions allow direct access to the authors in a way not possible through oral presentations.
Please print your posters in A0 (841 × 1189 mm / 33.1 × 46.8 inches).Please keep in mind, that IASSIDD will not print the posters - you will need to do so yourself. We will of course be happy to store them for you, if you bring them to the reception desk.
Please make sure that your poster adheres to IASSIDD's poster presentation guidelines.

Roundtable sessions are designed to encourage discussion, and should have a minimum of 4 and maximum of 5 presenters, including a chair.

Demonstration sessions allow participants to showcase their research in non-traditional formats, such as by video presentation. Depending on the nature of the demonstration, authors may be asked to provide an excerpt for the review committee before it is accepted.
Congress Tracks
Sessions (Symposia and invited symposia) and Posters as well as presentations will be clustered in 7 tracks. The central track is inclusion. The inclusion track is focusing on the work of self-advocates and consists of sessions in easy language. Each of the themes is based on a main topic related to the UNCRPD as well as to the work of one or more of IASSIDD's SIRGs (with exception of "Work and Employment" and "Education"), with the track "Inclusion" offering the overall perspective for the other tracks: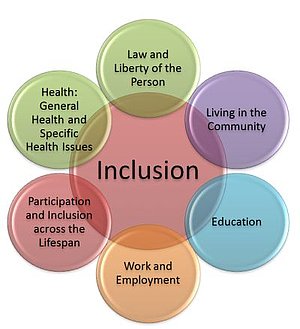 Law and Liberty of the Person
Focus: legal questions of including people with ID into society; consequences of changes in local or international legislation; supported decision making; questions of personal freedom of people with ID; consequences of abuse, and institutional mistreatment

Living in the Community
Focus: about or contributing to the awareness of the public towards persons with ID; attitudes towards people with ID; programs to include persons with ID further into their communities; on possibilities to raise awareness for the inclusion of people with ID; service systems

Education
Focus: special education vs. inclusion into the regular education system; Life-long learning in people with ID

Work and Employment
Focus: ways to integrate people with ID into the primary working sector; business and organizational models contributing and supporting people with ID

Participation Over the Lifespan
Focus: age related challenges in ensuring participation and inclusion of people with ID; specific possibilities and challenges related to old age for people with ID; specific possibilities and challenges for children and adolescents with ID

Health: General Health and Specific Health Issues
Focus: matters of physical or mental health; health related behaviors
Inclusion:
Sessions of the Inclusion track will be available on each day of the congress. These sessions will be available in easy language (both German and English) and will provide a discussion and information platform for all participants of the congress.
Primary goal of sessions of the inclusion tracks is to provide a framework that further deepens the possibility of participation of people with ID in all topics of the congress, by providing further information in easy language on keynotes and the central themes and tracks of the congress.
Furthermore, the track's secondary aim is to foster and deepen not only exchange between self advocates in Europe but also all stakeholder groups in ID research: self advocates, researchers, family members and professionals supporting people with ID with several round tables in the course of the congress.
The program of the inclusion track, unlike the other tracks, is focused on one specific topic each day:
15.7.2014: Supported decision making
16.7.2014: Inclusion in the workplace
17.7.2014:

Community-based living