Timothy P. Shriver, Ph.D. is Chairman of Special Olympics and in that capacity, he happily serves together with over 4 million Special Olympics athletes in 170 countries, all working to promote health, education, and a more unified world through the joy of sports.
Before joining Special Olympics in 1996, Shriver was and remains a leading educator focusing on the social and emotional factors in learning. He co-founded and currently chairs the Collaborative for Academic, Social, and Emotional Learning (CASEL), the leading school reform organization in the field of social and emotional learning. He is a member of the Council on Foreign Relations, and a non-executive director of WPP plc.
Shriver earned his undergraduate degree from Yale University, a Master's degree from Catholic University, and a Doctorate in Education from the University of Connecticut. He has produced 4 films, written for dozens of newspapers and magazines, founded an ice cream company, and been rewarded with degrees and honors which he didn't deserve but happily accepted on behalf of others.
Shriver lives in Washington, DC with his wife Linda and their 5 children.
Minister Rudolf Hundstorfer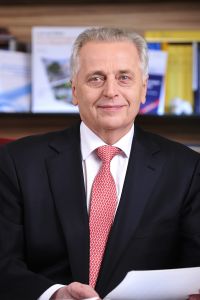 Rudolf Hundstorfer was born on 19 September 1951 in Vienna and started his trade union activities as youth spokesman in the administration of the City of Vienna. As from 1975, Mr. Hundstorfer was responsible for youth affairs in the Union of Municipal Employees (Gewerkschaft der Gemeindebediensteten - GdG) where he became expert on organisational questions in 1983 before being elected secretary general and, in 1998, chairman of the "Landesgruppe Wien" (Vienna's fraction at the GdG). In 2001, he was elected executive chairman of the GdG. Mr. Hundstorfer served as chairman of the Social Democratic Trade Unionists (Fraktion Sozialdemokratischer GewerkschafterInnen - FSG) from 2003 to 2006 and was elected chairman of the GdG in March 2007. Rudolf Hundstorfer was member of Vienna's Provincial Diet and City Council from 1990 to 2007 and first chairman of Vienna's City Council from 1995 to 2007.
In 2003, Rudolf Hundstorfer was elected vice president of the Austrian Trade Union Federation (Österreichischer Gewerkschaftsbund - ÖGB). In 2006, he followed Fritz Verzetnitsch as executive president of the ÖGB and became its president as well as member of the executive committee in 2007 with a key responsibility for social affairs.
On 2 December 2008, Rudolf Hundstorfer was sworn in as Minister of Social Affairs and Consumer Protection of the Republic of Austria. Since February 1st 2009 he has also been responsible for Labour Affairs. Rudolf Hundstorfer is married and has three children.
Minister Hundstorfer will make the opening speech.
Mary McCarron - Unlocking the Determinants of Successful Ageing: The Intellectual Disability Supplement to the Irish Longitudinal Study on Ageing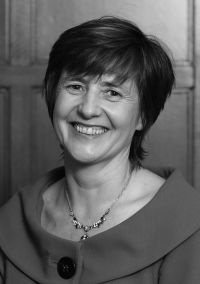 Mary McCarron, PhD RNID, RGN, BNS., is Dean of Faculty of Health Sciences, at Trinity College Dublin and an internationally recognized researcher on quality of life and care in the areas of intellectual disability, ageing, chronic illness, dementia, and palliative care.
Prof McCarron is leading the research team for the Intellectual Disability Supplement to the Irish Longitudinal Study on Ageing which has just completed its second wave of data collection. Her work also includes research on palliative care issues for people with intellectual disability and for the general population.
McCarron's research, fitting closely with Trinity College's research agenda on Ageing and reflecting a strong focus on practice and service issues, has received funding in excess of €2million from the Health Research Board, Department of Health the Irish Hospice Foundation, The Atlantic Philanthropies and the Alzheimer's Society of Ireland among others. Prof. McCarron is an active member of the Trinity Center on Ageing and EngAGE, the Mercers Institute of Ageing at St. James Hospital and the TILDA Steering Committee and chairs the Scientific Committee of the IDS- TILDA. In the international aspects of her work, she holds a research assistant professorship at the Centre for Excellence in Ageing & Community Wellness at the University at Albany NY. Prof McCarron is also active in developing educational initiatives with a focus on ageing at undergraduate, postgraduate and post-registration level including the Higher Diploma in Dementia Care for Persons with Intellectual Disability and Dementia; Interdisciplinary Masters in Palliative Care and Interdisciplinary Masters in Dementia.
A frequent contributor to policy discussions including providing depositions for National and International bodies, Professor McCarron is a consultant to services providers and advocacy groups, advising on Dementia and Intellectual Disability issues for the Daughters of Charity Service including the opening and operation of a memory clinic and newly opened dementia care residential programs. She acts as spokesperson on ageing related issues for key organizations in the Republic of Ireland including the National Federation of Voluntary Bodies, and Inclusion Ireland
Professor McCarron is a member of the International Association for the Social and Scientific Study of Intellectual and Developmental Disability (IASSIDD) and its Special Interest Group on Ageing, and of the Down syndrome and her work is widely published.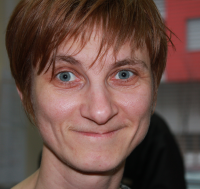 My Name is Senada Halilcevic I am 37. I was born in Tuzla, Bosnia and Herzegovina. I live in Zagreb, Croatia. Seven years ago I left the institution where I spent seven and a half years. I did not like living in an institution. My parents live in Hvar, Croatia. I lived in a supported housing programme provided by the Association for Promoting Inclusion for four years. In my free time I like to walk in the nature with my friend, and I like it when my friends come to my house and we spend time together. Also one of the activities that I enjoy very much is therapetuic horseback riding that provides organization "Jedne za druge" every saturday. I like to meet new people. I am a passionate advocate for community living and UN Convention on the rights of persons with disabilities.
I have been working at the Association for Self Advocacy for 5 and a half years.I work as a self-advocate on project activities. My job is to participate in the preparation and the work of the group, go to meetings with decision makers, and to participate in preparing materials in easy to read format, i.e. brochures and newsletters, as well as to participate in different educational workshops. I represent the Association in public and at conferences.
I have been a member of the EPSA Steering Group for four years, and I am a member of the Board of Inclusion Europe. I have participated in conferences in Europe where I represented all persons with intellectual disabilities, and I have also participated in projects by Inclusion Europe. I am included in a project by Inclusion Europe at the time. I can share experience with other self-advocates, and hear their experiences. I would like to actively participate in future EPSA activities like: contributing to the making of brochures and web site and participate in making policy papers and recommendations for decision makers.
Lisa Pfahl - Inequality, Education & Disability. The Role of Inclusive Policies in School-to-Work Transitions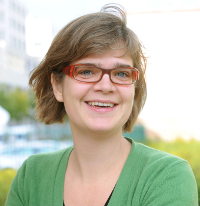 In October 2013 Dr. Pfahl was appointed Professor for Disability Studies at the Humboldt-Universität. In her work she concentrates on the social construction of dis/abilities among poor and migrant children and forms of institutional discrimination as well as biographical transitions in education and work. Her study "Techniken der Behinderung. Der deutsche Lernbehinderungsdiskurs, die Sonderschule und ihre Auswirkungen auf Bildungsbiografien" (Technologies of the Disabled Self. The Discourse of Learning Disability, Germany's Special Schools and Students' Educational Biographies) addresses the question why socially disadvantaged and youth labelled as 'disabled' have limited educational success and face difficult transitions into the labour market. She analyzes how discursive knowledge circulating in the disciplines and institutions of special education contributes to continued educational segregation in Germany and how this knowledge produces students' subjectivities that 'disable' them. Innovatively combining analysis of disability discourses and interpretive biographical analyses, her work sheds light on the strong influence of experts and practitioners on people's bodies, beliefs and identities.

Dr. Pfahl's research agenda includes educational sociology, sociological theory, disability studies, gender studies, as well as educational and occupational fields.
As a member of the Alliance of German Non-Governmental Organizations Regarding the UN Convention on the Rights of Persons with Disabilities she supported the First Civil Society Report on the Implementation of the UN Convention on the Rights of Persons with Disabilities in Germany "For Independent Living, Equal Rights, Accessibility and Inclusion!"

From 2011 until 2013 she was Guest Professor for Inclusive Education and head of the Inclusive Research Centre at the University of Bremen. From 2005 until 2011 Dr. Pfahl worked at the University of Göttingen and the Social Science Research Centre Berlin (WZB). Prior to that she was a doctoral fellow in the International Max Planck Research School "The Life Course" at the Max Planck Institute for Human Development, Berlin. Dr. Pfahl received her academic training in Sociology at the Free University of Berlin and the University of Minnesota.
Marianne Schulze - Supported decision-making: for prime ministers only?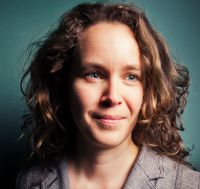 Dr. Marianne Schulze, LL.M., is a free-lance human rights consultant for non-governmental organizations, governments and agencies of the United Nations. A monitor, analyst and advocate in the Ad Hoc Committee, which negotiated the Convention on the Rights of Persons with Disabilities, she authored "Understanding the Convention" an ebook edited by Handicap International. With Professor Maya Sabatello she co-edited "Human Rights & Disability Advocacy," a collection of the experiences by 15 co-negotiators (Pennsylvania University Press 2014). She contributed to the World Bank/World Health Organization World Report on Disability, among others. For her work as the inaugural chair of the Independent Federal Monitoring Committee on the Convention in Austria she received the 2012 Wundsam-Hartig award.
Jan Šiška - Institution, house or something in-between: the current state of deinstitutionalisation in Central and Eastern Europe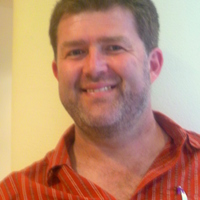 Jan Šiška is an associate professor at the Faculty of Education, Charles University, Prague and Western Bohemian University, Plzeň, Czech Republic. He lectures in both master and doctoral study programs in disability studies, social policies, and education with particular focus on intellectual disability. Jan has been a program convenor for the prestigious international MA study programme - Erasmus Mundus, Special and Inclusive Education. Jan participated in several European research projects on disability such as study on Specific Risks of Discrimination Against Persons in Situation of Major Dependence or with Complex Needs, De-institutionalisation and Community Living, Outcomes and Costs (DECLOC), Children´s rights for all! Implementation of the United Nations Convention on the Rights of the Child for children with intellectual disabilities and currently Making People with Disabilities Full Citizens (FP7/DISCIT).
He is a member of the Government Board for Persons with Disabilities, Education Committee. For last decade Jan has been serving as a country representative for the Academic Network of European Disability Experts (ANED) and consultant for the national and European associations for persons with intellectual disabilities and their families SPMP ČR and Inclusion Europe. Jan is a vice chair of the Special Interest Research Group on Comparative Policy and Practice on Intellectual Disability, IASSID.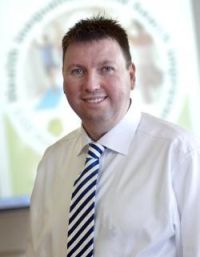 Dr Laurence Taggart first qualified as a Registered Nurse for People with Intellectual Disability in 1991 and while working in the community with children and adults with intellectual disabilities, he successfully completed a BSc in Applied Psychology in 1999 at the University of Ulster, Northern Ireland. He then went on to complete a PhD on the mental health needs of adults with intellectual disabilities and subsequently took up a Lecturer's post within the School of Nursing at the University of Ulster in 2003. As well as teaching into the pre and post-graduate nursing programmes Laurence oversees three specialist intellectual disability modules on challenging behaviour, mental health and health promotion and is currently supervising seven health related PhD doctoral students in intellectual disabilities. In 2013 Laurence was promoted to the position of Reader in the Institute of Nursing & Health Research, University of Ulster where he leads the Centre of Intellectual & Developmental Disabilities.
Laurence sits on the Board of Directors of four regional charities across Northern Ireland for people with intellectual disabilities. He is the current President of the Royal Society of Medicine Intellectual Disability Forum and Chair of the Health SIRG of IASSIDD. He is also a member for the Centre for Special Olympics in Europe/Eurasia.
Laurence's main research interests focus on the health of people with intellectual disabilities (i.e. health inequalities, health promotion, access to services, substance abuse, cancer, diabetes and diabetes education, mental health, ageing) and the needs of older family carers and how they plan for the future. He has received funding of almost £2 million from a range of competitive funders to complete research projects aimed at transferring research knowledge into practice. He has published and presented nationally and internationally and is most recently the co-editor of 'Health Promotion for People with Intellectual & Developmental' Disabilities' (2014) an important, interdisciplinary book aimed at increasing professional awareness of the importance of health promotion activities for people with intellectual and developmental disabilities.